6 Ups and 3 Downs of United's Attacking Masterclass v. Bournemouth
Griffochaz
---
Marcus Rashford, Anthony Martial and Mason Greenwood have now scored 55 goals combined this season which is more Sadio Mane, Mohammed Salah and Roberto Firmino. Ironically, 55 is also the amount of times VAR was called on during Manchester United's dominant victory over Bournemouth.
Solskjaer sent the same team out and it was a two completely different stories in two different ends of the pitch. Attacking wise, it was the best United display in a long time however defensively it was potentially the worst.
So, as United surge to a Champions League place, let's digest EVERYTHING we saw, yes we are in it for the long run folks, and dish out some ups and some downs.
DOWN – ANOTHER DE GEA ERROR
Eight. That is how many combined goals the 11 starting Bournemouth players have managed this season. No offence but that is awful. 'The Cherries' main threat is through either Wilson and both Callum and Harry were unavailable for todays game.
So, on paper that should be an easy clean sheet but United let not one but two get past them. The first was diabolical. Junior Stanislas slotted his shot near post, and it was too much for De Gea. Prime David would have saved that with his eyes closed, but De Gea is far from form and after giving him ups the last few matches, I feel it's only right to give him a down when he concedes a goal that League Two keepers even save.
DOWN – CLOSE YOUR LEGS
That's what a good chunk of the United fanbase said after the first goal. Yes, De Gea was at fault but Stanislas should never, and I mean never, have the chance to shoot. Whose fault is that? Captain Harry Maguire. He is far too inconsistent at the moment and every time he is near the ball; I'm preparing myself for the worst.
Getting nutmegged is one thing but getting nutmegged seconds before conceding is inexcusable. Harry needs to sort his act out and gain more consistency before United can concede their defence title challenging.
DOWN – HAND OF FOD
Good News. Volleyball is back. Well, Eric Bailly thought it was. Almost seconds after coming on for Lindelof, who would have got a down himself if he didn't have an injury as an excuse, Bailly concedes a debatable penalty after forgetting what sport he gets paid thousands to play.
Personally, I don't think it was a penalty but that is not the point. When there is no one pressuring you, you have time to head the ball instead of shouldering it. With football at the moment, you can't give VAR any reason to give an offence and Bailly fell into that trap.
Bailly's number one fan is not impressed.
UP – MASON GREENWOOD
I said in the Brighton ups and downs that Greenwood played his best game in a United shirt. That was now his second-best game because today was his best.
Both goals were sublime, and Mason put in a world class performance and I don't say that lighter. His energy is unlike any others, his pace is unstoppable, and his skill is breath taking. I am refraining from making any comparisons because it's far too easy to get carried away but if Greenwood continues these performances, there is no doubt he will become an all-time great.
UP – MARTIAL'S ART
When you think of a false 9, you think of Roberto Firmino. The Brazilian is often a hub of criticism but what he does is something stats don't pick up. Anthony Martial is beginning to emulate what Firmino brings to Liverpool. It's not all about goals but when he drifts to one side, he is dangerous and with one goal and two assists, he was a big difference today and will be crucial in the upcoming games.
UP – RASHFORD OFF THE MARC (US)
Marcus Rashford has needed a goal since the restart in order to boost his confidence so it was a no brainer who was taking a penalty if one were to be given and behold United won a penalty, rare occurrence I know, and Fernandes, who usually takes the spot kicks, gave it to Rashford who slotted it home past Ramsdale. This will do a player like Rashford, who worships goals, a world of good and will give him the confidence he needs to go forward and get his name on the scoresheet more often.
UP – 7 GOALS, 6 ASSISTS, 13 STARTS
What a record that is. Bruno has only started 13 games and has assisted six and netted seven goals in those 13 starts with a goal and two assists to contribute to that today.
This was by far Bruno's best performance in a Manchester United shirt and that says something. Not many players can come into the Premier League and hit the ground running but the Portuguese has done just that. Without Fernandes United aren't in a title race and his signing has proven to be the most important one in years. Simply fantastic.
UP – NEVER GIVING UP
If United conceded first a year ago the likelihood of them losing the game would be about 88%. Now it's about 12%. That is down to the never give up attitude that I have commented on before. Man United heads just don't drop at the moment because they know the attacking side of the team will get three, four or even five.
This is a fantastic mentality to have but shouldn't cause complacency at the back. A good team needs a good attitude and a great team needs an even better attitude and United has that said attitude.
UP – THE SUBS
This may be controversial, but the subs had the best game since lockdown. Dan James came on and was an influence. Fred created a few chances and Ighalo and Mata could of have a goal to their names. Bailly is the exception to the rule but overall a reassuring performance from the United bench.
Don't let this fool you though, United still need to strength.
What did you make of this entertaining encounter? Leave in the comments below.
May 2023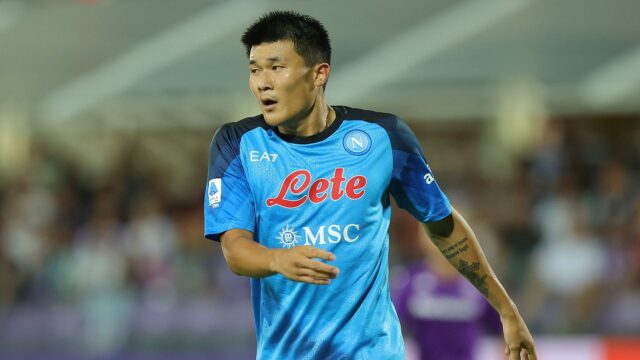 Griffochaz
Napoli centre-back Kim Min-Jae and Juventus midfielder Adrien Rabiot are two names heavily linked with Manchester United with deals reportedly in progress. South Korean international Kim Min-Jae, who signed from Fenerbahce last summer, has played a massive part in winning...
August 2022
July 2022
June 2022