8 Ups and 3 Downs From Man United 5-1 Leeds United
Griffochaz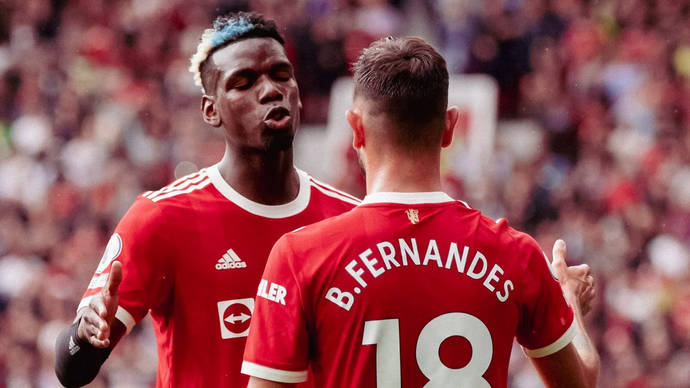 The Premier League is back and so are Man United.
Ole's men began the campaign by welcoming the fans back to Old Trafford to renew the historical rivalry against Leeds United. New Man United signings Jadon Sancho and Raphael Varane didn't start the game but both got onto to the Old Trafford pitch, Sancho for 15 minutes and Varane for his official Man United announcement.
United started the game well and it was Bruno Fernandes who netted from a Paul Pogba assist, not the last time you'll hear that in this article, to give The Red Devils the lead.
Half-Time elapsed and Luke Ayling scored a potential goal of the season contender by firing a 25-yard shot past David De Gea before United turned on the style and scored a quickfire double from the boots of Mason Greenwood and Bruno Fernandes, both assisted by Paul Pogba I may add.
Bruno then completed his hattrick after holding his run from a Lindelof ball over the top to smash it into the roof of the net. United then grabbed their 5th and final goal of the game when Fred got on the end of another Paul Pogba pass to hit the ball past Meslier.
A dream start to the season which would more than likely see Man United top the league for the opening weekend of the season. But's let take a more in-depth look at the game and talk about the many ups and the few downs of this entertaining game.
DOWN – Set Pieces Still An Issue
Last season, Man United had a terrible relationship with set pieces both attacking and defending them but with the signing of set piece coach Eric Ramsey, we hope that will soon be sorted.
However, despite a few highlights from corners and free kicks in pre-season, it is going to take time for set pieces to be removed from United's notable weaknesses list as this game showed.
Leeds United's best chances came from either free kicks and corners and Leeds' lack of attacking threat was more the reason they didn't score from these set pieces rather than Man United's defending.
A fair few teams are set piece dependant this season so Ramsey will need to get the best out of the players in that department before we lose too many points from these situations like we did last campaign.
DOWN – James Falls Flat As Others Shine
In the game's preview I explained how it was a wise choice to play Dan James in this game based on Leeds' game and James' electric pace and workrate, assets crucial in a game against a Bielsa team.
With that being said, the Welshman looked out of place in that front line today. As a team player, he did what was asked of him but individually speaking there were a few shots that should have demanded more from Meslier and a few chances he could have created that he didn't.
Now this may be slightly unfair on Dan James but the winger did stick out like a sore thumb in the attack that featured an on-fire Bruno, Pogba and Greenwood and everyone waiting for a Jadon Sancho debut went against James' as well but nonetheless it was a day to forget individually for the young Welsh international.
DOWN – Donny Pre-Season Glow Benched By Ole
In the grand scheme of things, this down doesn't really matter. The game was won and the performance was fantastic but the fact Donny van de Beek didn't step onto the Old Trafford turf for a single minute is disappointing.
He was one of the highlights of pre-season and looked fit, sharp and ready to go for the season, much more than some players that started today.
As I say, it's a nit pick of a down and he will probably play a big role in the season with the inevitable fixture congestion to come, but it still sucks if you are Donny.
UP – A Brave But Clever Team Selection
Let's start the ups by praising Ole Gunnar Solskjaer and his team selection. The Norwegian's starting XI was very controversial with the inclusion of "McFred" and Dan James but the 'Babyface Assassin' got it spot on.
We have already covered James but if Sancho wasn't ready to start then it was a sensible choice. The Mctominay and Fred duo aren't sustainable but for one off games like this, it was a perfect decision by Ole.
It's embarrassing that some "fans" gunned for Solskjaer's head before kick-off. Wonder what's going through their heads now?
UP – Like A Spider To The Ball
This is the only up the defence is getting today not because we were poor at the back but because they had next to nothing to actually do.
AWB has had his fair amount of critics over the past few seasons and a notable weakness in his game is ball control but against Leeds, Wan Bissaka looked comfortable with the football at his feet.
We all thought Raphael Varane to his left and Jadon Sancho in front of him would bring the best out of Aaron but Man United's resident 'Spider' managed to look confident and in control with Lindelof and James to contend with. Wan Bissaka is about to have a monster season, I can just feel it.
UP – Midfield Maestro Mctominay's Monster Masterclass
Man of the Match will be debated between Bruno and Pogba and rightly so but Mctominay deserves some shouts.
Especially in the first half, Scott ran the midfield which is hard to do against a Bielsa side. He was strong defensively and looked confident going forward.
Leeds' always brings the best out of Mctominay and it is now a question of can he do it more frequently in bigger games. McTerminator may be awake and ready to go which is not a good read for the other 19 Premier League clubs.
UP – Pogba FOURces Leeds Rock Bottom
Scott may have been good but Paul Pogba put in one of the greatest opening day displays in Man United history.
Yes, that's a big statement but when you get FOUR assists in a meaningful game against fierce rivals Leeds, you warrant those sorts of claims. The Frenchman was played at left wing in the absence of Marcus Rashford and despite that not being his natural position, he still managed to take the game by the scruff of the neck and turn it into the Paul Pogba show.
The question for Paul Pogba is similar to that of Scott Mctominay but on a larger scale. Can he have that sort of impact for 38 games a season? If so, then that may be the difference between trophies and nothing come May.
UP – Another (Hat)Trick Up The Portuguese Magician's Sleeve.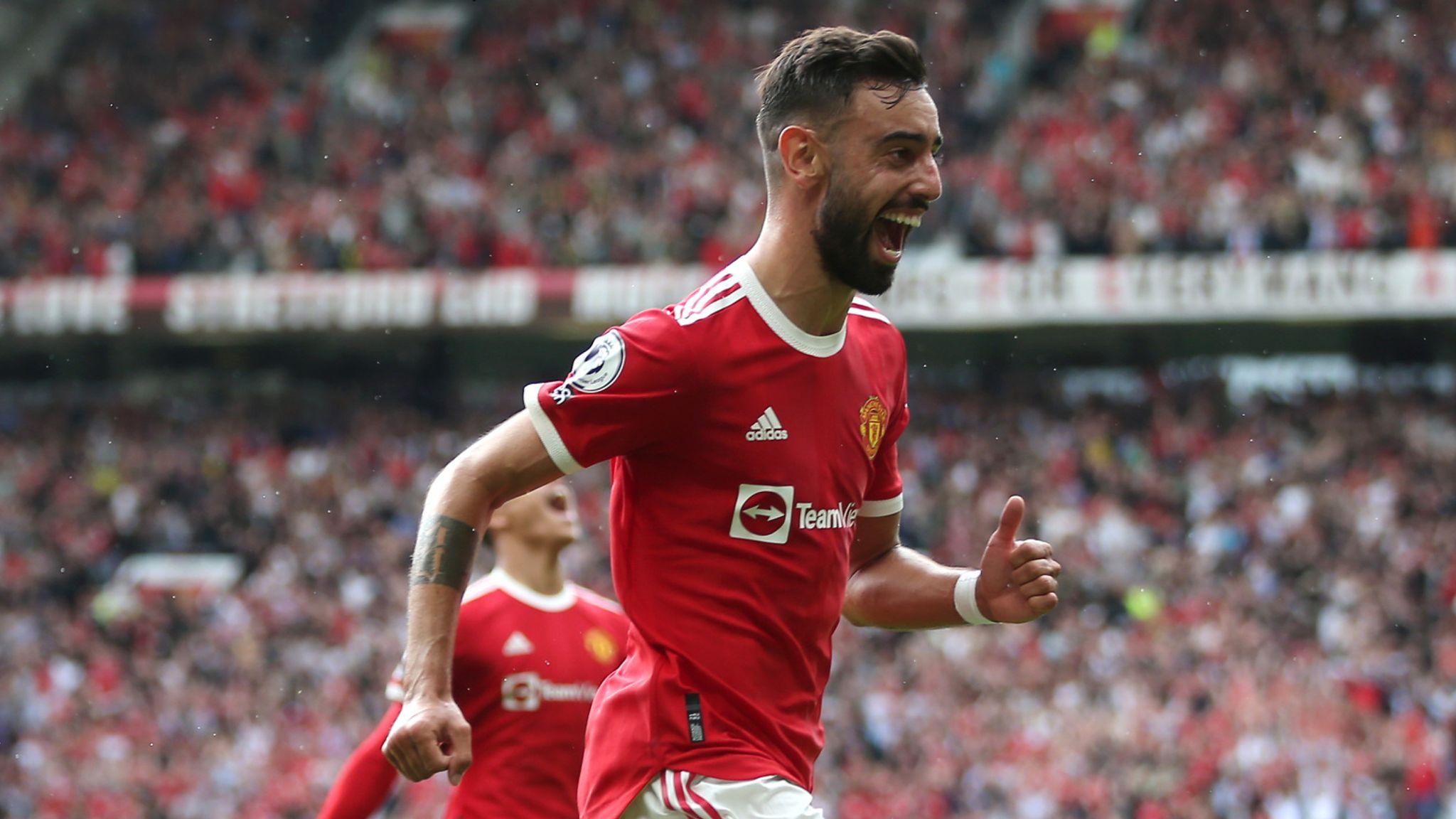 Bruno Fernandes. Those two words are all that is needed.
Everytime we think Bruno can't get any better, he somehow does. The man is a literal machine and there is no better evidence than what we saw at Old Trafford. His first United hat-trick included three very good goals. The first was a tidy tuck home, the second was a cool and collected shot and the third and final was a thunderbolt into the roof of the net.
Fernandes will collect many ups throughout the season but this is a great way to start a big season for our Portuguese Magnifico.
UP – Sancho Starts Life At United
While Sancho didn't get as many minutes under his belt as we would have hoped, the gametime he did get will be crucial.
Having only started training on Monday, it was a lot to ask of our £73m man to play a huge part in the game and thanks to United's quality, we weren't rushed into bringing him on for more minutes that he could handle.
The first game under the Old Trafford lights will always be special for Sancho but there will be many more great moments to come for the youngster.
UP – Greenwood Putting Up Trees At #9
Man United have a lot of talent on their books but Mason Greenwood may be the most technically gifted at the club. There is no doubt that the 19-year-old is going straight to the top in football and will be one of the world's best forwards.
His goal just topped off his brilliant number 9 display and with the ongoing rumours linking Erling Haaland to the club, this season is the chance for Mason Greenwood to prove that he is the number 9 for Man United's future.
He has the fortune of learning off of one of the best in Edinson Cavani but Greenwood's talent is limitless and nothing can stop the boy from breaking records in years to come.
UP – Strong Sub Showing From Solskjaer
We started the ups with Solskjaer so we shall end the ups with Solskjaer.
One of Ole's biggest criticisms is his use of substitutes which is ironic considering he coined the phrase "super sub". However, today Ole got the subs right which is a hopefully a sign of things to come.
If we were being picky then you could say he should have introduced Sancho and Martial 10 minutes earlier but we've just won 5-1 so we're not.
Fingers crossed he has learnt from his mistakes of the Europa League final and is ready to fully utilise his bench for the new season in which silverware is a must.
What did you make of the game? Are Man United title challengers this campaign? Let us know your thought down below.