Manchester United 2-1 Liverpool PLAYER RATINGS
Griffochaz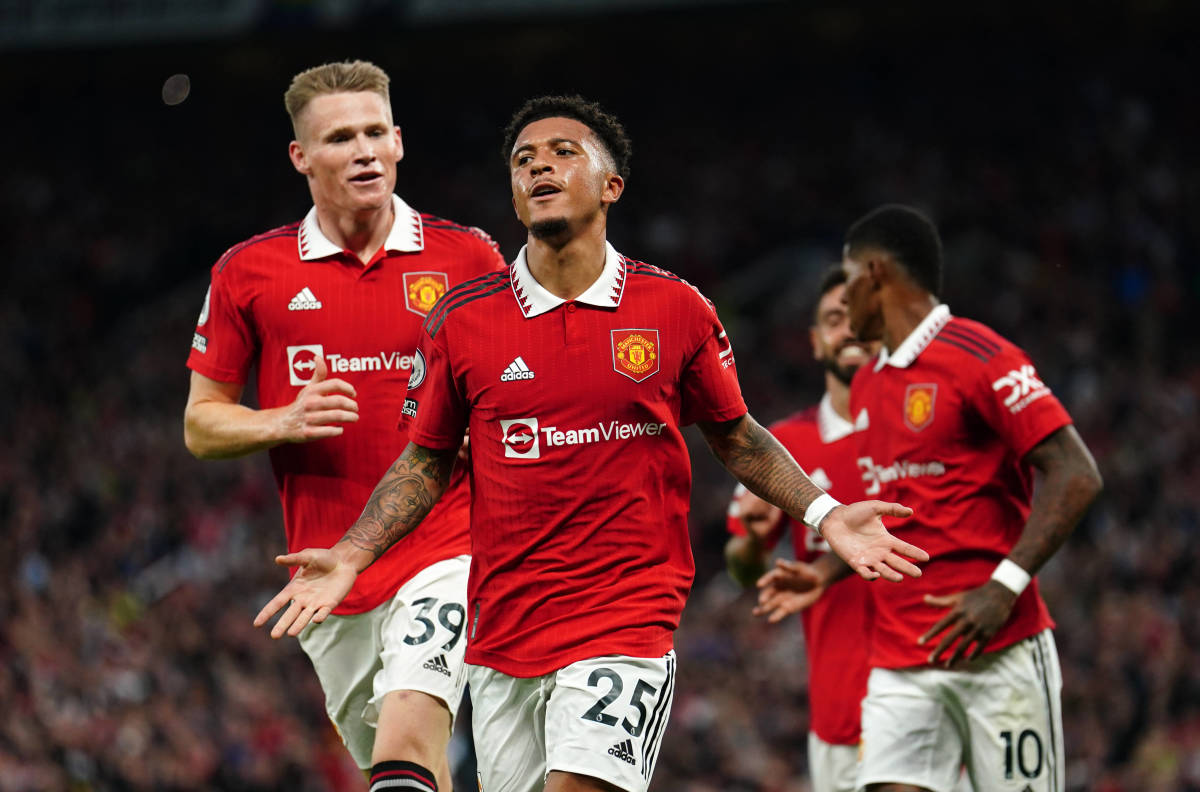 Well that was unexpected. 
On a night where the focus was firmly on the Glazers Out protest, Man United went toe to toe with a Liverpool side who started the season with two disappointing draws over Fulham and Palace.
The evening began when supporters took to the streets outside Old Trafford to demonstrate their displeasure with the current ownership of the club.
During these protests, Man United unveiled new signing Casemiro before the game got underway.
Both teams started well and matched the intensity of the occasion all before Jadon Sancho capitalised on a sleeping Virgil Van Dijk to give The Red Devils a shock lead.
Despite having the momentum for the majority of the first half, United only took a 1 goal lead into the break.
Worries about the momentum dying out during half time were quickly quashed when Marcus Rashford held his run to finish off an Anthony Martial pass to double the lead for ten Hag's men.
Liverpool did strike one back before the full time whistle when Mohamed Salah found the bottom corner of De Gea's goal.
However, Man United managed to hold off the late Liverpool surge to climb above Klopp's team with a surprising 2-1 win.
Let's see how the players rated during this historic first win for Erik ten Hag as Manchester United manager.
All ratings out of 10. 
David De Gea – 6 
Coming off the back of his Brentford horror show, David De Gea was looking to prove himself as a viable option in a ten Hag system.
On paper this would have been a good game to see how Dave could cope but Liverpool didn't really trouble him as much as expected.
He made one good save when Martinez nearly turned it into his own net but aside from that, he was quite quiet throughout the 90.
Again, his distribution wasn't tested as much as we hoped but there were minor improvements on that front nonetheless.
A standard game from De Gea which was needed following on from last week.
Diogo Dalot – 7
I have handed my fair share of criticism to Diogo Dalot recently due to his below par performances, however he was great against Liverpool.
Luis Diaz is a menace to try and mark out of the game and even though he had a poor game, that is testament to how good Dalot was.
Diogo didn't offer as much going forward as he can do but there were massive improvements defensively which is what we want to see.
Let's hope we see more of this Dalot in the coming weeks
Raphael Varane – 9
The colossal.
Varane has had a fair amount of criticism levelled at his head over the last year but this display is why he is still considered one of the best in the world at what he does.
Not only did he combat everything Liverpool threw at him but also organised his defence like a captain does.
Dalot, Martinez and Malacia all had better games due to Varane and even Mctominay looked more comfortable with Rapha behind him.
While Van Dijk crumbled in the big game, Varane rose to the occasion and had his best game in United red.
Lisandro Martinez – 8
Liverpool's attack where pigs sent to the slaughter in this game and The Butcher chopped them down to size.
After many doubts over his height and defence ability against Brenfford, Martinez came back with fight and proved he is a stellar player.
His partnership with Varane is what won us the game of football and I expected more of that in the future.
Aside from the shot at his own goal, Lisandro didn't put a foot wrong against a tough opposition.
The Butcher has arrived to the Premier League.
Tyrell Malacia – 9
Speaking of arriving in the Premier League.
Tyrell Malacia had no right to pocket the league's best in Mo Salah on his first Premier League start.
Yes, Salah scored the Liverpool goal but that was of no fault to Malacia in fact the only time the Egyptian had a chance was when Malacia wasn't marking him.
Ten Hag made a big call dropping Luke Shaw but now there may be no way back for the Englishmen if Tyrell continues to perform like that.
Scott Mctominay – 6
An average 6 for Scott is actually a good score considering the levels he has been performing at lately.
A game where he didn't put a foot wrong but didn't do anything of note.
I suppose when you are the CDM in a win against Liverpool it's a good thing you are quiet.
Despite this performance, United will still go up levels when adding Casemiro to the team ahead of the Scotsman.
Christian Eriksen – 6
Again, I couldn't tell you too much of what Eriksen did in this game.
Playing in the middle of the park, he just played his game and helped move the ball from defence to attack.
A key component in this win but not one to earn him anything other than a standard 6 rating.
Bruno Fernandes – 8
This rating may be controversial to some but Bruno was a cruical part of the Liverpool win.
There was not one moment where Fernandes stopped running and his press often put the Liverpool defence under pressure.
The reason Mctominay and Eriksen were so quiet is because every ball they would normal win was won by the Portuguese magnifico and distributed further forward.
Now he did have his moments, like the own goal attempt and occasional losses of possession, but what he offered was far more important than those mistakes hence why his display earned him an 8 rating.
Jadon Sancho – 8
Similarly to our number 8, Sancho was here, there and everywhere on the Old Trafford pitch.
The constant pressure Jadon pilled on the Liverpool backline allowed for further mistakes and greater opportunites for United.
His goal came from his cool head and ability to wait before slotting the ball home into the bottom corner.
He was quieter in the second half but without his pressing in the first, Man United struggle to take 3 points away from the game.
Marcus Rashford – 7
Firstly, Marcus' goal was prime Rashford demonstrating his ability to hold the run before running through and calmly firing it past the keeper, he is class in 1 on 1 situations for sure.
Aside from the goal, it was a standard game from the English talent.
He was more active in terms of running and tracking back in this game than previous matches but still lost the ball often when trying to beat his man.
However, this display showed glimpses of the old Rashford which we haven't seen in over a year.
Anthony Elanga – 6
Having only been on the pitch for 45 minutes, Elanga did what he needed to do.
Apply constant pressure to Trent at the back causing him to make mistakes and card worthy fouls was the aim of the game for the Swede and it was a success 45 showing from him in that regard.
He isn't a world beater and probably will never be a nailed on starter for the club either but he is a young player you can trust if you want a job doing, as yesterday evidenced.
Anthony Martial – 7
On the rollercoaster of Anthony Martial, it appears as though we are nearing a high point.
His 45 minute display was exactly what was needed in the second half, praying on vulnerable Liverpool legs.
The Frenchman showcased his skill on multiple occasions including for setting up Rashford's goal with a perfectly placed through ball.
His energy in the dying embers of the game helped United weather the late storm Liverpool hit us with.
Another cruical part in the shocking win.
Fred – 7
I guarantee the only word ten Hag told Fred before coming on was "Run" and that was exactly what the Brazilian did.
Fred is a perfect impact player to bring on against tiring opposition legs to pressure and win the ball back.
Ten Hag used him to a tee in this game and again played a key role in keeping Liverpool at bay for the final stretch of the encounter.
Cristiano Ronaldo/Donny van De Beek/Aaron Wan Bissaka – N/A
Only playing a defensive 10 minutes, Ronaldo, Donny and AWB were not on the field enough time to warrant a rating.
How do you rate the players from last night? Let us know down below.