Manchester United vs. Tottenham Hotspur Preview
Griffochaz
---
PREVIEW: Manchester United vs. Tottenham Hotspur
DATE/KO: Sunday 4th October 2020 (16:30GMT)
VENUE: Old Trafford
COMPETITION: Premier League
CHANNEL: Sky Sport Main Event
OFFICIAL: Anthony Taylor
If you've managed to get through this week of let down and embarrassment then you have the joy of watching a depleted Man United team play host to Jose Mourinho's Spurs side who are coming in fresh off of a 7-2 Europa League qualification victory on Thursday night.
Man United have been linked with everyone and their nan this week and yet somehow, nothing has materialised. However, we need to put the lack of transfers out of our heads for now and focus on beating a direct rival to our Top 4 place in Spurs.
As for Tottenham themselves, they have played three games since our Brighton win last Saturday. A controversial draw with Newcastle followed by a massive penalty shootout victory over Chelsea in the EFL Cup and then the said 7-2 battering of an Israelian seafood dish. The fitness may be in question but in terms of match sharpness, they have it in bucket loads while United are as sharp as a tennis ball.
This is the first real test for both teams this campaign so I can't stress enough how important getting the three points is.
Last Meeting
The last time these two sides met was the first game back after lockdown which may be remembered for a number of things. You either remember David De Gea's mistake leading to a Steven Bergwijn goal or the Roy Keane rant following that incident where he claimed the Spaniard was "one of the most overrated goalkeepers EVER".
Anyway, after the Bergwijn strike, United went into the break a goal down and it took 36 minutes of the second half for Paul Pogba to get fouled by Eric Dier and the referee to award a penalty for the Red Devils. As ever, Bruno tucked it away and salvaged a point against Mourinho's men but this was far from the desired start we wished for during the many months of lockdown. Thankfully we all knew what came after.
With the situation at both clubs far different, will this encounter have a conclusive winner this time around?
Man United Team News
Before we go to the pitch, let's swing by the medical room to say hello to both Phil Jones and Axel Tuanzebe who both are unavailable for the Sunday game. No change there then.
As for the players who are actually fit, there are many questions as ever and they start with the goalkeeping position. Dean Henderson yet again proved his worth in midweek when he put in a great display against Brighton. However, De Gea is still a world class shot stopper and hasn't given Solskjaer any reason to drop him. It is fun having two great goalkeepers, isn't it?
Playing the same team twice in a week is useful when comparing players. Yes, Brighton played a weakened team last Wednesday, but Eric Bailly put in a fantastic display while his defensive counterpart Victor Lindelof just had an average performance. To me, Bailly has to start against Spurs in favour of Victor Lindelof. He is one of the best centre backs at the club and we need to give the Bailly and Maguire partnership some time and this Spurs game will be the much-needed test for them both.
The next headache Ole faces is the choice between Matic, Mctominay or Fred. In my opinion, Nemanja Matic is the one that has to start against Spurs. He didn't start against Mourinho and his men post lockdown and that is seen as a big reason United failed to get the three points. Mctominay is not a defensive midfielder and that has been proven over the last few games and Fred is on the up but is still a key weakness in the midfield. Stick with what got you to the dance, and Nemanja Matic got us to the dance.
Paul Pogba scored a confidence boosting free kick in midweek and for the first time in a long time we saw a smile on the face of The Frenchman. I would continue to start Pogba over Van de Beek for now as I feel Pogba can offer more to this game than Donny. Let's not forget his performance off the bench against Spurs post lockdown.
The only other talking point is Juan Mata who has worked his way into the conversation after some good recent displays. For me, Mata doesn't start on Sunday as the pace of the game will be too much for an ageing Juan Mata to cope with. However, as a bench option, I would definitely like to see the Spaniard there in case we need some extra creativity to get the job done over a difficult Spurs size.
My team to face Spurs is below:
Tottenham Hotspur News
Tottenham are without their two main winger Gareth Bale, who has yet to play a single minute since his return to London, and Heung Min Son, who sustained an injury against Newcastle last Sunday.
A conflict of interest is Sergio Reguilon who was near to joining United before baiting and switching to the white side of London. If fans were in grounds, fans would be giving Reguilon a hard time for sure so Sergio must be thankfully he has dodged that bullet.
The Tottenham team most likely is seen below:
Prediction
United's first real test comes in the form of Spurs and it's going to be very tough for either team to walk away with the three points. That's why I'm going with high score draw of 2-2. Putting the nerves aside, this game will be a classic for sure.
PREDICTION: MANCHESTER UNITED 2-2 TOTTENHAM HOTSPUR
What's your score predictions? Leave in the comments below.
May 2023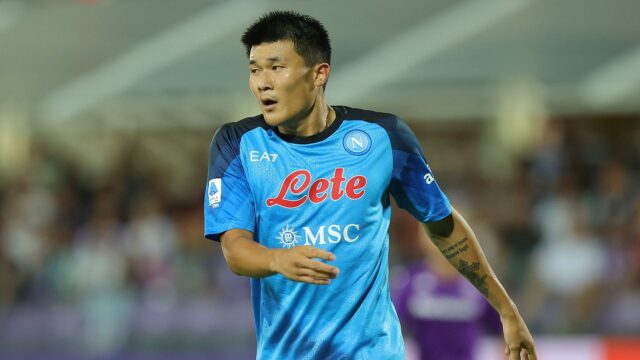 Griffochaz
Napoli centre-back Kim Min-Jae and Juventus midfielder Adrien Rabiot are two names heavily linked with Manchester United with deals reportedly in progress. South Korean international Kim Min-Jae, who signed from Fenerbahce last summer, has played a massive part in winning...
August 2022
July 2022
June 2022