Sevilla vs. Manchester United Europa League Semi Final PREVIEW
Griffochaz
---
PREVIEW: Sevilla vs. Manchester United
DATE: Sunday 16th August 2020 8pm
VENUE: RheinEnergieSTADION (Germany)
COMPETITION: Europa League
CHANNEL: BT SPORT
OFFICIAL: Felix Brych (Germany)
EUROPA LEAGUE RECORD:
Sevilla – W7 D2 L1
Manchester United – W8 D2 L1
Regardless of the scenario we continue to find ourselves in, Manchester United are set for a European Semi Final against long-time rivals Sevilla. For both teams, the season started over a year ago but for one of them, the elongated season will come to a crashing and heart-breaking end this Sunday. Together, Sevilla and Man United have won four of the last six Europa Leagues with Sevilla winning three of those taking their Europa League wins to a record five. To make it six, they must get past tournament favourites Man United who aim to end Ole Gunnar Solskjaer's first full season in charge of 'The Red Devils' with a European trophy.
The game will be a tight affair but who will find what it takes to advance to the most unique Europa final in history.
Last Meeting
The last time these two European outfits locked horns was back in 2018 in a two legged last 16 tie. The first leg finished goalless between the two and with the second leg at Old Trafford it looked certain Jose Mourinho would be taking United to the quarter finals of the Champions League. However, after two goals from Ben Yedder, Sevilla beat Man United by 2-1 despite a late goal from Romelu Lukaku. This began the downfall for Jose Mourinho and United are desperate to redeem themselves by knocking off the Spanish giants two years on.
Manchester United Team News
A recap on the names not in Germany for the Europa League. Phil Jones and Axel Tuanzebe continue their world record attempt for longest injuries in the sport of football so miss the remainder of the tournament and Luke Shaw, who picked up an injury against his former club Southampton a month ago, also misses the next few games and is even a doubt for the start of the Premier League season.
Formation
4-3-3 has been the saving grace for Man United this season and with the freedom of this shape, it can allow United to pressurise Sevilla into losing the ball. Sevilla play sloth style football so the pace this formation brings will only benefit Ole's men
VERDICT: 4-3-3
Goalkeeper
When the team sheet was released for the FC Koebenhavn match, many were surprised to see Sergio Romero in between the sticks. Upon reflection, I believe it's a great decision to rest De Gea in favour of the Argentine. David needs to have a break before re-joining the first team for the beginning of next season and I'm more than happy with Sergio Romero taking the reigns for the rest of the Europa League campaign.
VERDICT: SERGIO ROMERO
Defenders
The right back position is an interesting one to get your head around and I've even seen some people claiming Aaron Wan Bissaka isn't good enough to be the "next Gary Neville". That is a very reactionary and narrow-minded view and those people must be forgetting the run AWB had pre lockdown. The past is the past and the future is the future, but we are all about the present and I believe Wan Bissaka is good enough and should be starting over Fosu Mensah, Dalot and even Ethan Laird.
Statistic time. Harry Maguire has only missed three games for Man United this season and has only once not played 90 minutes in games he started. How Harry Maguire isn't lugging a carcass around the pitch is unknown to me but what's another two matches. Maguire starts.
As for his partner, Eric Bailly didn't do anything wrong against Copenhagen but Victor Lindelof did everything right when he came on for the Ivorian. A brief cameo off the bench has merited a start for the Swedish international. He is a good player that gets unfair criticism and the most experienced partnership needs to start in a Europa semi-final.
United's hands are tied behind their back on this one with the injury of first teamer Luke Shaw and the lack of left backs other than Brandon Williams, so this choice is really a no brainer. The underrated English talent starts against Sevilla.
VERDICT: AARON WAN BISSAKA, HARRY MAGUIRE, VICTOR LINDELOF, BRANDON WILLIAMS
Midfielders
At the end of the day, the midfield is what will win the game for either team and on paper United have the superior one of those. It's all in the midfield selection so that is why we can't live off of a good performance from Fred last time out. Fred will be key if he were to be brought onto the pitch from the bench. As for the starter, it has to be Nemanja Matic. He has been so good that I've ran out of comparisons and analogies for the Serbian terminator and it's no understatement to say he could well be the difference between a win and a loss for United on Sunday.
Paul Pogba's name has been thrown around a lot over the past week as his contract renewal rumours heat up just like the UK. The Frenchman looks likely to be staying on the Ole train and recent photos suggest he is at his happiest. That morale must continue by playing him in the semi-final. Of course, his ability on the football pitch is why he starts not the morale but Pogba's mentality will continue to improve as his performances follow suit.
I wonder who can start in the attacking midfielder role for United? Juan Mata's short but sweet display on Monday has put his name on contention but it has to be our Brazilian Magnifico Andreas Pereira. He is so good that Ole didn't want to play him because it's basically cheating. Jokes aside, Bruno Fernandes has the Europa League on notice after his displays for both United and Sporting so is a must. Bru-yes will continue his hot form.
VERDICT: NEMANJA MATIC, PAUL POGBA, BRUNO FERNANDES
Attackers
Starting with the right wing, unless the Europa League changes the rules so you can play players you are heavily linked with, it has to be Mason Greenwood. The lad is so talented that failing to play him in a semi final will be a massive proverbial shot in the foot. His skill and pace can turn any defence inside out and with a strong backline, we need a key to unlock a way past that defence and Mason Greenwood is that key.
Switching sides to the left and I'm going to smash Marcus Rashford's name into this article before my inner demons try to persuade me to change my mind to Messi Lingard. Rashford has been in and out of form since lockdown but he still posses the ability to change the game at any given moment and in a semi final that ability is crucial.
No points for guessing that Martial is the man to lead the line on Sunday. This is the sort of game that Martial can thrive in and with the big occasions turned up to maximum, Martial will relish this opportunity. This is Martial's time.
VERDICT: MASON GREENWOOD, ANTHONY MARTIAL, MARCUS RASHFORD
Sevilla Team News
Sevilla will more than likely play the same team that beat fellow English team Wolves in the last round. With no notable exclusions, the predicted line-up is below:
Prediction
It's such a hard one to predict but I'm going for the optimistic view and going with a 2-1 win in the 90 for United but don't be surprised if it is drastically different.
VERDICT: SEVILLA 1-2 MANCHESTER UNITED
What do you think about the game? Leave the thoughts below.
May 2023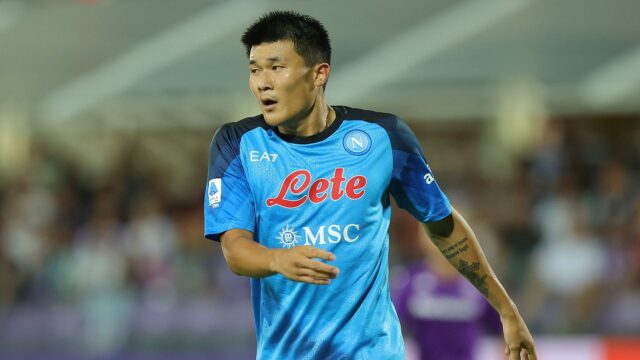 Griffochaz
Napoli centre-back Kim Min-Jae and Juventus midfielder Adrien Rabiot are two names heavily linked with Manchester United with deals reportedly in progress. South Korean international Kim Min-Jae, who signed from Fenerbahce last summer, has played a massive part in winning...
August 2022
July 2022
June 2022