Raphael Varane: A Pawn In A Bigger Game?
Griffochaz
As a Man United fan, you learn very quickly never to trust anything The Glazers do or occasionally say. The last 16 years have taught us that The Glazers are always thinking about their pockets and have very little if any thought for the Manchester United the football club over Manchester United the business.
This summer, the heat on the Glazers Out movement has died down a lot after the signing of Jadon Sancho, which is a year delayed, and the impending transfer of Raphael Varane despite them trying to rewrite the English football history forever with the European Super League. While the Glazers do deserve acknowledgement on a good transfer window, lets not turn our attention away from how they really run this great club.
The signing of Jadon Sancho needed to happen after the abject failure of last summer but the Englishman has since become a conversation of the past as Raphael Varane is days away from becoming an official Man United defender however the cynical in me partnered with the Glazers business strategies questions whether there is more behind this Varane deal that what meets the eye. Is there a bigger picture to look at here?
Did Man United Need Varane?
Yes! This opinion piece is in no way saying we didn't need Raphael Varane and with Harry Maguire, Aaron Wan Bissaka and Luke Shaw already at the club, the Frenchman completes a very solid looking backline.
When you are looking to turn your defence from standard to above par then Varane is one of the top names you think of and credit to Man United for paying the money to get him to Old Trafford.
He certainly improves the team two-fold but when have the Glazers ever actually cared about the team on the pitch unless significant monetary gains are involved?
As much as Raphael Varane is a big name that could turn the fortunes of Man United around, he isn't a player that kids rush to the shops to have on the back of their kits. However, there is another Frenchman in Manchester that ticks that box.
Paul Pogba!
While Jadon Sancho, Marcus Rashford and Edinson Cavani are all big names, none of them quite generate the branding and business that Paul Pogba does. Without knowing the actual figures, there is a very high chance that Pogba is the most popular name to have on the back of United shirts. That sits very well with the Glazers.
Second to that, Paul Pogba has the biggest exposure out of any Man United player. Yes Marcus Rashford is a national hero and everyone knows who he is but Pogba appears in many adverts on TV and appears on many billboards whether for Pepsi or Adidas and that isn't even mentioning he is the go to player for TV channels to promote Man United games. When Sky Sports promote their next Man United match, Paul Pogba is usually the player they use to do that.
All these appearances transfers into money for the Glazers and a lot of it at that. Considering The Glazers wanted to Americanise the English game, I'll use an America term. Paul Pogba is The Glazers' franchise player. A player they can't afford to leave on a free. That's where Raphael Varane comes back in.
Raphael Varane and Paul Pogba were French national teammates long before they became Man United teammates meaning they have a solid friendship. Just last week, Raphael Varane and Paul Pogba had a facetime call together and earlier today it was revealed Varane had lengthy talks with his fellow World Cup winning friend before agreeing to move to Man United. It's no hidden information that Pogba and Varane get on very well.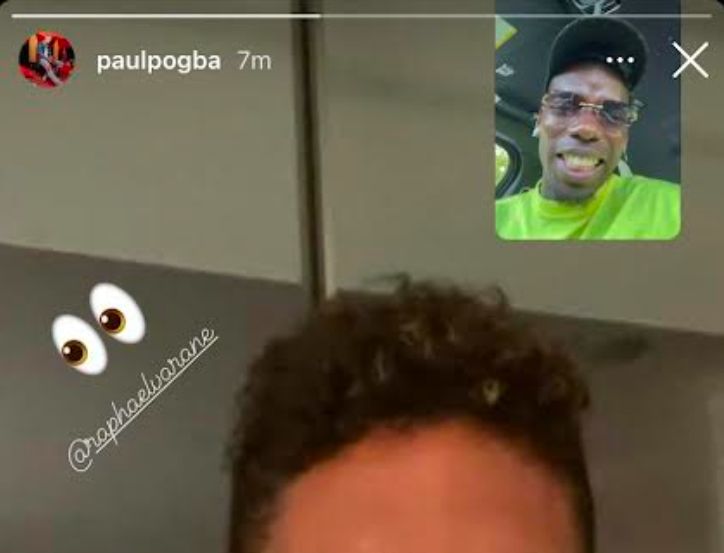 Bringing in one of Paul Pogba's national friends would be a very clever move in trying to tempt the "franchise player" to stay at the club.
We know The Glazers will try everything under the sun to try and keep Pogba at the club and maybe this Varane transfer is just another example of that.
Now this just seems like a far-fetched conspiracy theory but that is until you connect the final piece to the puzzle. Towards the beginning of the transfer window, Man United were very loosely linked to Varane and was reportedly more interested in the likes of Jules Kounde or Pau Torres. Then there was a sudden turn of interest to try and secure the Raphael Varane deal. The board completed that deal suspiciously quick considering the usual pace of the Glazers business which leads me to suggest they saw Varane as an option to kill two birds with the one proverbial stone and improve the team while putting another bargaining chip on the negotiation table for Paul Pogba and we all know which one of those two situations The Glazers prefer.
Is there anything wrong with this?
Absolutely not. Man United have bought one of the worlds best defenders and is using him as temptation to keep another great player at the club. All things considered, it's extremely smart business if it works. Not only would Pogba committing to the club for another couple of years be highly beneficial to the squad but the French connection between Paul and Raphael would be a huge credit to the team as well.
This is just my humble opinion but I wouldn't put it past The Glazers to sign Raphael Varane with the purpose of tempting Paul Pogba to sign a new contract. After all these owners thought a non-competitive league was a great idea.
What do you think? Let us know down below.