3 Ups and 5 Downs From Manchester United 0-1 West Ham United
Griffochaz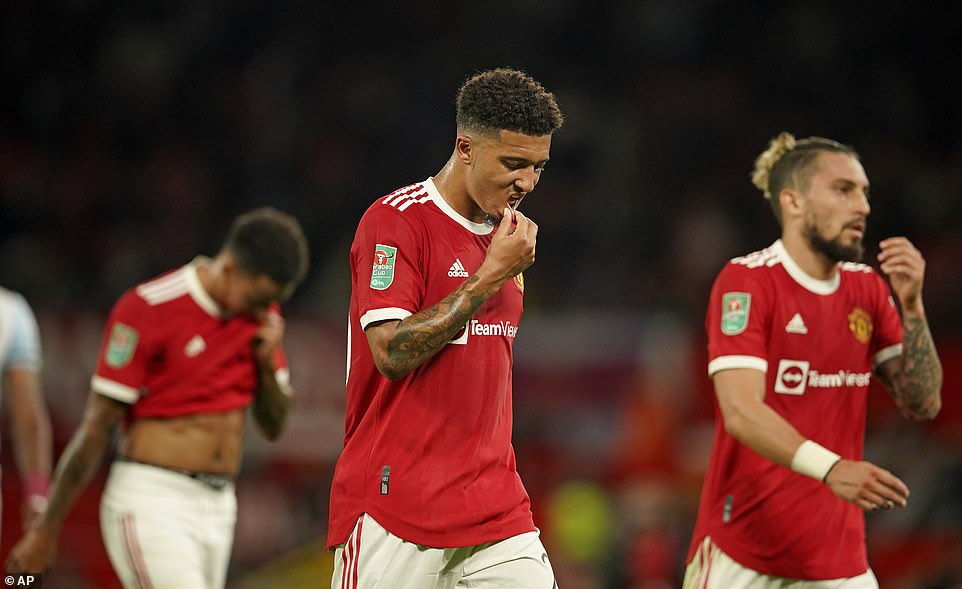 For the first time under Ole Gunnar Solskjaer, Manchester United have been knocked out of a domestic cup competition at the first hurdle.
Man United faced West Ham for the second time in a week as David Moyes sought revenge for the 2-1 loss in the Premier League on Sunday and after Manuel Lanzini fired home a Ryan Fredericks cross, The Hammers got their revenge and now have set a date with the Carabao Cup masters Manchester City in the next round.
In terms of the Red Devils, it's yet another trophy that United have failed to win and despite little blame falling on the manager, it's yet more questions hanging over Old Trafford.
So what was to blame for the premature cup exit?
DOWN – A MISSED OPPORTUNITY FOR TELLES
Alex Telles has been a very unlucky man since coming to Manchester. His signing coincided with the upturn in form of Luke Shaw which has resulted in far less game time than he was expecting.
Against West Ham, Alex had a chance to prove to the manager that he can offer something else that Luke Shaw can't but unfortunately he couldn't get hold of the game whatsoever.
Ryan Fredericks cross came from Telles' side and going forward he looked dejected of ideas which is a polar opposite of the man he is trying to displace in the starting XI.
In defence of Telles, he has just come back from an ankle injury so he may not be 100% but whether he is fully fit or not, that does not excuse a poor performance from the Brazilian.
DOWN – MATA HAS RUN HIS COURSE
Juan Mata has had a great career. At Chelsea, he looked this freak of nature that could contribute to any and every attack and was in conversations for player of the year. While we have seen glimpses of that at United, Juan did sign for the club during his twilight years.
The Spaniard can still string a good few passes together but the pace of the game is far beyond the level he can hack now and it showed as he was just a passenger in this game.
If a Bruno or Pogba started the game in the number 10 then we would have had a lot more creativity and probably wouldn't have lost the game in the 90 but that's all ifs and buts.
Now with no cup football until January, it is hard to see where Juan Mata will get gametime for United.
DOWN – PLAYING FOR A CONTRACT
Jesse Lingard is becoming a regular in Man United conversations. After his peach of a winner on Sunday, he was given the chance to build on that performance with a start in the cup.
In my eyes, Jesse looked like he only had one thing in mind everytime he received the ball and that was shooting and trying to secure a new contract at United.
He wasn't the worst player of the pitch and did offer some energy in an otherwise stagnant frontline but the selfishness he displayed in the game will only work against him and his plan for a new deal.
Jesse is one of the few players who may play some minutes from now until January but they have to be better minutes than the 72 he played against West Ham for him to secure that new opinion dividing contract.
DOWN – A LITERAL ICE-COLD PERFORMANCE
I have not laid my eyes on any heatmaps for the game yet but I would put a lot of money on Anthony Martial's being very alarming.
Like with many others, Martial had the opportunity to put his name in conversation with Ronaldo, Cavani and Greenwood and carve his way back into Ole's plans but I'm sure you don't need me to say that the opportunity was missed.
Yes, there is an element of supply that Martial needs to receive but as a striker you also have to move around a little bit and try and win the ball and the few times he did try that he would either give away a free kick of win it back just to lose it again.
Let's not speak out of turn because Martial has given us great moments in his time at United but with the squad Solskjaer has now assembled, the Frenchman must be seeing his future outside of Manchester.
DOWN – ANOTHER TROPHY GONE
Trophies have alluded Ole Gunnar Solskjaer since his arrival at Man United as manager and this was a good chance to put that hoodoo to bed.
Now with an extra competitive Premier League and always challenging Champions League, the FA Cup may be the only realistic chance at silverware in a season that desperately needs it.
A major opportunity passed by Ole and United.
UP – DALOT READY TO STEP IN
As previously mentioned, a lot of these players may not feature again until the FA Cup kicks off in January but one player we will definitely be seeing a lot more of is Diogo Dalot.
With Wan Bissaka suspended for 3 games after his red card against Young Boys, Dalot will fill in for the spider so a good performance against West Ham was needed and, in my view, he delivered.
The defence aren't the ones that cost us the game, for once, and Dalot was the shining light at the back. He looked confident going forwards and was calm when defending which are two attributes you need when getting parachuted into the biggest club competition in world football.
Diogo is ready to step up and help United turn around a poor start in Europe.
UP – GIVE ME THE MONNY
Midfield has been the biggest talking point at United for a few years now especially with the ever-controversial McFred partnership but today saw the birth of a new partnership we should be seeing a lot more of.
Monny (Matic and Donny) were the two best players on the pitch in red and that should be turning a lot of heads in the Manchester United camp. Matic was his usual tenacious self that controlled the midfield while Donny, aside from a few times, looked comfortable in the role he was playing.
Clearly Ole doesn't see what we see and Van De Beek may go back into hiding for the next few months but Donny has yet again proven why he should be more of a regular than he is at the club.
UP – GREENWOOD SHINES YET AGAIN
Mason Greenwood is 8 days away from turning 20 years old but he plays like he is 27 and in his prime.
The gulf in class when Greenwood stepped foot on the Old Trafford turf was seismic and just shows how much this club means to the youngster.
He looked lively and created far more than any other player on the pitch despite only playing half an hour.
When a 19-year-old kid is in conversations to start over the likes of Jadon Sancho, Marcus Rashford and Edinson Cavani and in the same undroppable bracket as Cristiano Ronaldo, you know you have a special talent.
I predict monumental things for Mason this season.
What did you make of the game? Let us know your thoughts down below.