Manchester United 3-1 Arsenal PLAYER RATINGS
Griffochaz
Despite losing the first two games of the season in dramatic style, Man United hosted top of the table Arsenal knowing a win would propel them in 5th place.
The Gunners came to Old Trafford as the only team with a 100% record from their first 5 games of the season.
Both teams started well but after the opening exchanges, Arsenal grew into the game and within 12 minutes, Gabriel Martinelli gave the away side a lead all before VAR deemed Odegaard fouled Eriksen in the buildup in the buildup.
Man United then capitalised on Arsenal's frustration when Antony scored 35 minutes into his debut.
After the break, Man United were much on the back foot and that was reflected when Bukayo Saka reacted to a loose ball to equalise for the Gunners.
However, the momentum didn't stay with Arsenal when a stellar ball from Bruno Fernandes was slotted home by Marcus Rashford.
The English forward doubled his tally when getting on the end of a Christian Eriksen square ball to win United the game 3-1.
So let's see who rated highly in this impressive win over the top of the league.
David De Gea – 6
A standard performance with a few average saves doesn't warrant Dave anything over than a 6 by no fault of his own.
Diogo Dalot – 8
I have been a strong critic of Diogo Dalot over recent years and has always felt like he needs replacing.
However, the last few weeks he has shown sheer quality and Sunday was no different.
He is playing with real confidence both in a defensive manner and in an attacking manner.
Credit to both Diogo and Erik for the vast improvements.
Raphael Varane – 7
Again Rapha Varane proves why he is still one of the best in the biz.
Arsensal didn't have many clear cut chances and that is thanks to Varane and this man.
Lisandro Martinez – 7
Lisandro has proven that height isn't an issue because yet again he showed his class.
The partnership with Varane and Martinez is quickly becoming one of the most feared in the league and they both compliment their respective games.
What a signing Martinez is looking like.
Tyrell Malacia – 6
Despite bossing Liverpool off the field two weeks ago, Malacia didn't have his strongest showing against Arsenal and it serves as a reminder that Tyrell is still a young kid.
Anything The Gunners did fashion came through Bukayo Saka and that was because the English talent had the better of Malacia throughout the 90.
A wake up call for Tyrell will only serve him well in his career.
Scott Mctominay – 6
Erik ten Hag has changed the fortunes of Scott Mctominay.
While he still is a rash and unpredictable midfielder, he does seem more responsible with the ball and is finding those killer passes more often than not.
A standard game against Arsenal for Scott here but standard is acceptable when you've had a rough few years in midfield like Mctominay.
Christian Eriksen – 8
Christian Eriksen is quickly becoming one of the best value for money transfers in Man United's history.
After bringing him in on a free, Eriksen has bossed the midfield most times he's put a United shirt on and has helped link the defence and attack.
His progressive movements matched with his keen eye for a pass and footballing brain is exactly the sort of player the club needed.
He is a fan favourite for sure and you can see why.
Bruno Fernandes – 7
Bruno's best game so far this season.
You can visually see what ten Hag is coaching into and out of him as the games go on.
While still evident in his game, Bruno is far more mature with the ball than he has been and can execute a killer pass like never before, cite Rashford's first goal.
Most teams have a creative outlet so we need Bruno to continue this form up.
Jadon Sancho – 6
It's very rare that all attack minded players score highly and there is always a fall victim and that was Jadon.
He didn't put a foot wrong but was simply outshone by his fellow United attackers.
An average peformance for Sancho but we are continuing to see his growth in United red.
Marcus Rashford – 9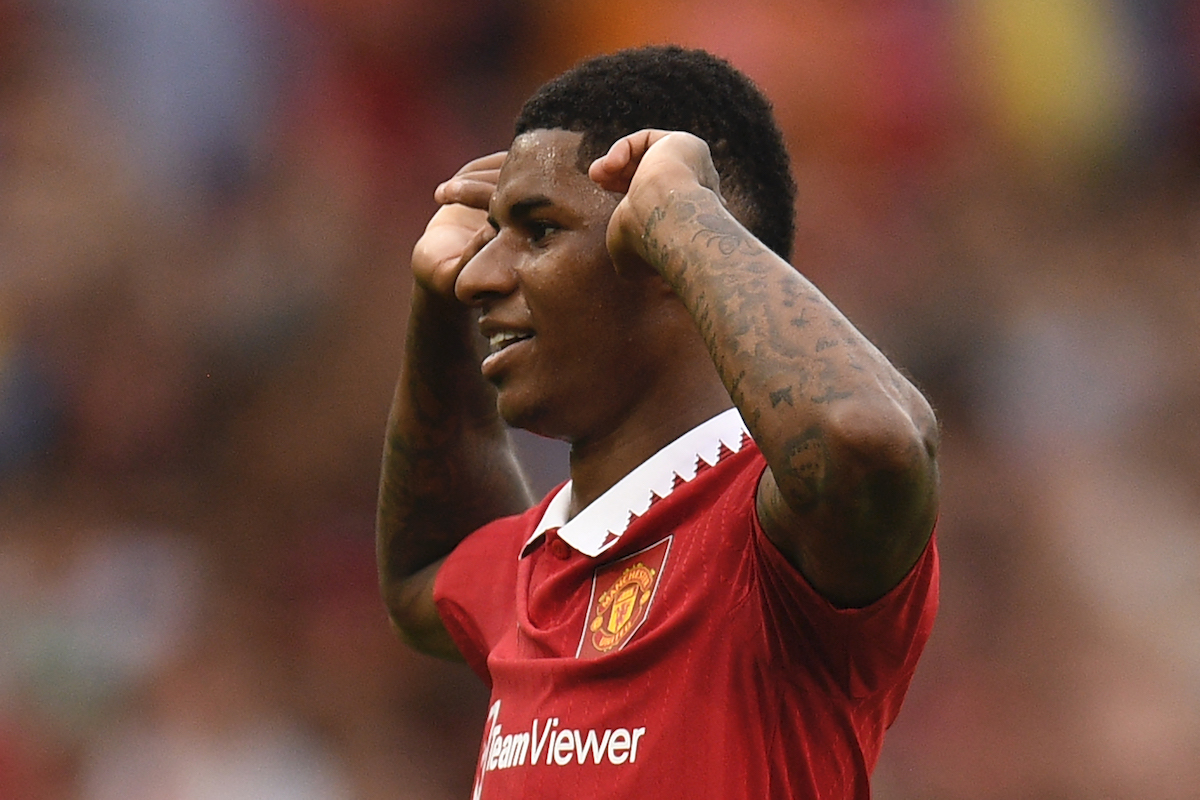 2 goals and 1 assist speaks for itself.
His game aside from those moments was sub-standard but his job is to put the ball in the net and that is exactly what he did.
The pass for Antony while not difficult does evidence the improvement in his thinking during a game.
His two goals were classic Marcus aswell, using his pace to get in good positions and beat a few defenders to score.
Let's hope ten Hag can continue to develop Rashford so we get to see this week in week out.
Antony – 7
Took his goal really well and demonstrated just how much the club has needed a left footed right winger.
Considering he joined the club in the week, he linked up well with his teammates and even had time for a few showboating tricks which is what we expect from a player of the Brazilian flair of Antony.
Cristiano Ronaldo – 6
Struggled to get involved in the game and wasted a few opportunites when he came on but still proved what he can offer the team with his pressing and pure winning desire.
Fred – 7
Exactly what the game needed when it needed it.
Fred served his purpose and sured up the midfield to not only hold on to the lead but help add another one.
With ten Hag's admiration of Mctominay and sheer quality of Casemiro, this might be the role Fred plays more often in the future.
Harry Maguire – 5
It's impressive in its own right to get a yellow card less than a minute into coming on but Maguire did that exact thing.
He was suspect when he came on and looked like he had a mistake in him.
Thank the heavens we have Varane and Martinez on top form.
Casemiro – 6
Helped see out the lead but didn't make too much of an impact to win himself anything other than an average 6.
Do you agree with these ratings? Let me know down below.