3 Ups and 6 Downs From Leicester City 4-2 Man United
Griffochaz
When you think it couldn't get any worse, we witness that.
Man United came into the game off the back of a poor run of form needing a win in order to turn fortunes around against a Leicester team that were also in need of a victory.
The Red Devils started well and a world class Mason Greenwood goal gave United a much-needed lead.
A mistake from Harry Maguire gave Youri Tielemans a golden chance to wonderfully put the ball in the net for 1-1.
After half-time, United started to get into the rhythm but as Leicester grew into the game, Caglar Soyuncu fired the ball home to give The Foxes a deserved lead.
United came back into the game with a goal from the returning Marcus Rashford all before Jamie Vardy restores Leicester's lead 15 seconds later.
Brendan Rodgers' side secured the 3 points with a back post tap in from new signing Patson Daka which helped put another nail in the coffin of Solskjaer and United.
So let's see what went wrong in this diasterclass performance.
DOWN – LINDELOF FAILS ON BIG CHANCE
When Raphael Varane hit the deck in the Nations League final, many United fans cringed knowing that Victor Lindelof would return to the starting line-up if the injury was serious.
Well now we know that Varane is out for a few weeks, Lindelof has the pressure on him in replacing a powerhouse like the Frenchman.
Against Leicester, Victor Lindelof had that chance but he failed on it. Jamie Vardy and Kelechi Iheanacho had a field day targeting the slow partnership at United's back.
Speaking of that partnership.
DOWN – A HALF-INJURED MAGUIRE SLUMPS TO NEW LOW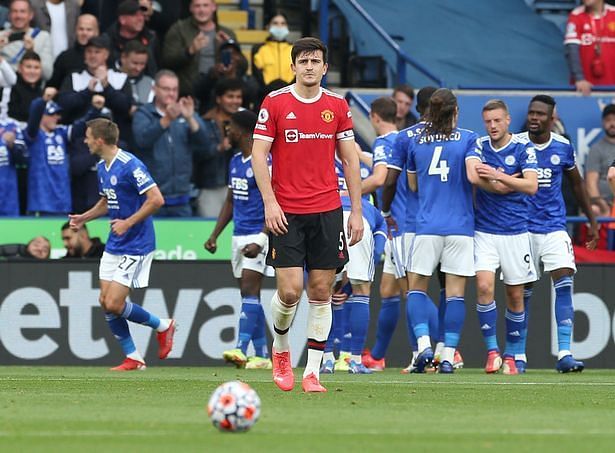 Somebody should really remind Harry Maguire that he no longer plays for Leicester City because it looked like he was a secret agent for The Foxes.
Let's not go too hard on Maguire because his clearly unwarranted selection falls on the manager but you could easily pinpoint all 4 goals to mistake from Harry.
The Tielemans goal was due to Maguire being statuesque which allowed Tielemans and co. to pounce on him. The second goal, he keeps Soyuncu onside and allows the Turkish to get a strike at goal.
You can blame any one of the 11 players on the pitch for the Vardy goal but either Lindelof or Maguire should be tightly marking such a prolific striker or at least closing him down and the final goal is just another case of Maguire being stationary as Leicester walk past him to secure their 3 points.
It was by far Harry Maguire's worst game for the club but this doesn't come as much of a surprise when he only had 24 hours of training before a game against a tough Leicester side.
DOWN – A FRUSTRATED POGBA UNDERWHELMS IN MIDFIELD
Paul Pogba's start to the season has been undeniable. The Frenchman has recorded 7 assists in 8 games but that early season form is beginning to falter.
You could tell the frustration Pogba had in this game with the constant fouls he was conceding. Paul just couldn't get in the game and was bypassed by both Soumare and Tielemans.
When the chips are down, you need your best players to step up and keep a cool head and Pogba lacks that which is detrimental to United.
DOWN – HIT AND HOPE FOR FERNANDES
Speaking of big players stepping up, Bruno was another star player that didn't look at his best against The Foxes.
Despite getting his customary assist, Fernandes resorted to hitting the ball and hoping it works. We all love Bruno for his risk taking but when it doesn't work it should be criticised and against Leicester it failed miserably.
Our Portuguese magnifico loves a long shot but his decision making in that department was poor.
He was clearly desperate to try and make something happen but the constant hoofs up field or towards the goal didn't give United a chance in the game.
DOWN – EVEN THE BEST NEED SERVICE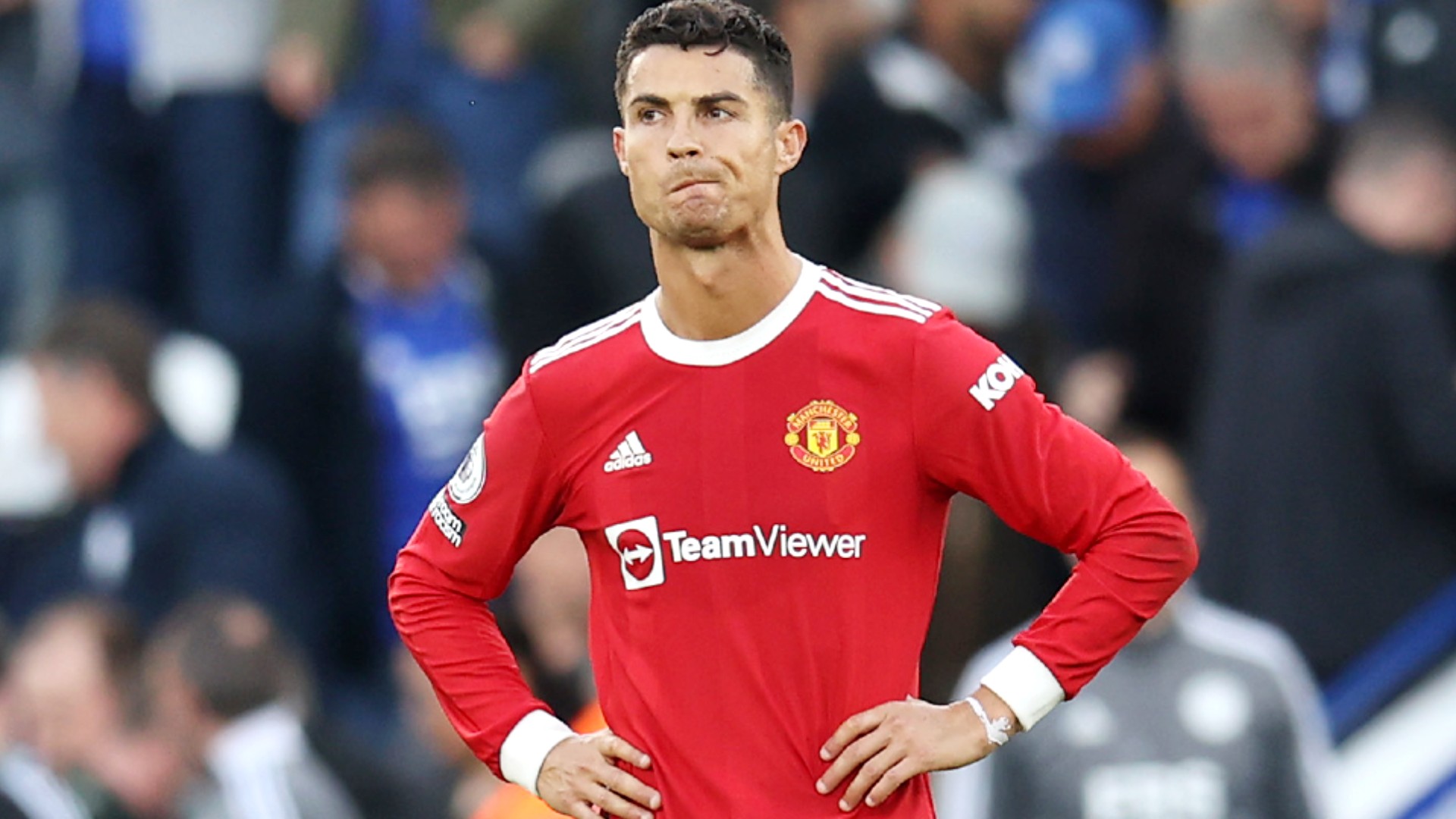 Ronaldo is and always will be one of the greatest ever footballers but even the best needs service.
The Portuguese legend isn't one for pressing and at the moment he is a complete opposite to what Ole wants in a striker but we should be catering to the strengths of one of the all-time greats.
If you supply the ball for Ronaldo, goals will inevitably pour in so it is just about unlocking Cristiano by feeding him the ball.
DOWN – IS IT TIME?
Over the last 3 years under Ole Gunnar Solskjaer, Man United have had plenty of ups and a fair few downs.
One of Solskjaer's tropes at United has been turning the ship around when the going gets tough but you get the feeling this might be a rut too deep for Ole to dig himself out of.
The Maguire decision is one of the worst decisions Ole has made as United boss and you feel the Norwegian will continue to make these bold calls as he starts to crumble under the enormous pressure of the job.
Ole has been a good manager for United but is the writing on the wall for the club legend or can he and his team pull off another 180 and strive for the title?
UP – THE FINAL PIECE OF THE PUZZLE TWO YEARS TOO LATE
A game of very few positives for United but one good player against Leicester was Nemanja Matic.
I've said it a thousand times over but Matic is what we need in a CDM however the age of the Serbian is the issue.
Nemanja can't string a run of three 90-minute games without his performance dropping or an inury getting picked up and this for us United fans is frustrating.
While we can't put the dreadful form down to the lack of a CDM, the position is still the biggest area United need to strengthen if they want to climb up the Premier League table.
UP – THE DOCTOR RETURNS
It was a game full of sadness and frustration but one moment that must have put a smile of all United fans' faces is the return and goal of Marcus Rashford.
There's not many that embody what United is all about more than Marcus and it was great to see him come back from his shoulder surgery and pop up with a goal, albeit a meaningless one.
You always want your best players fit especially when your form is poor so having a top quality winger in Rashford back on the team sheets will only give the club and the fans a boost for the coming weeks.
UP – A GOAL WORTHY OF IT'S OWN UP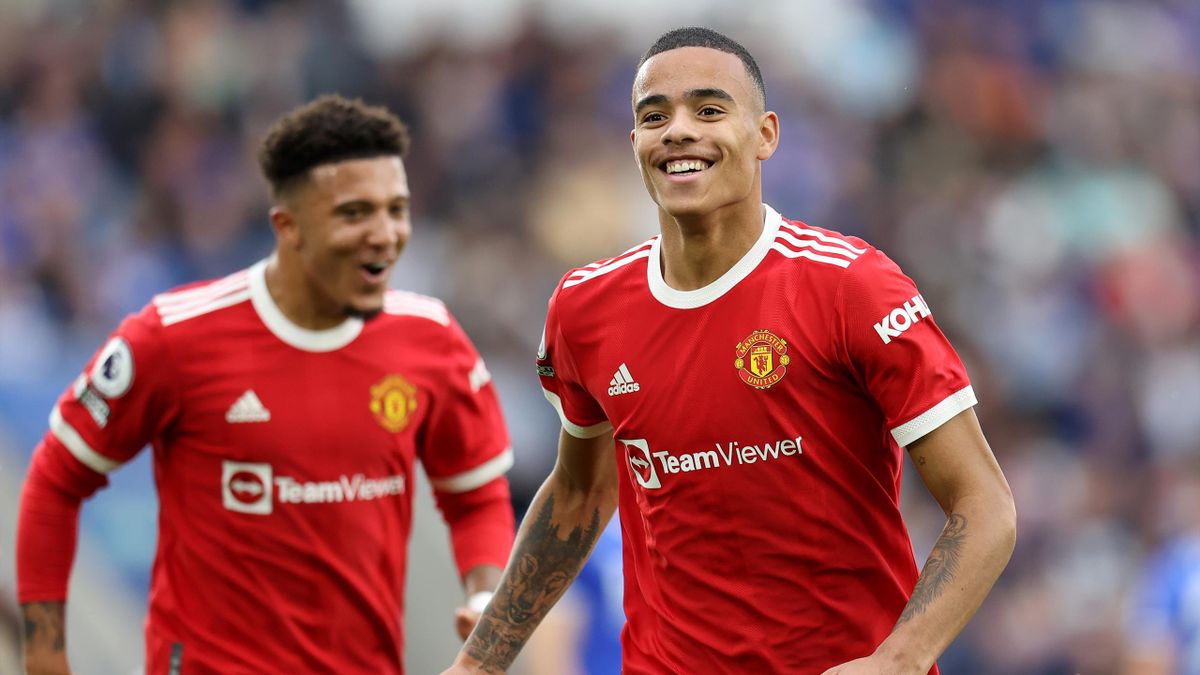 We are struggling for ups in this article but when Mason Greenwood scores an absolute belter, it's a perfect excuse to give it the thumbs up.
Greenwood is obviously going straight to the top and the 20-year-old is full of confidence and scoring from these distances will only give the lad more.
It was a sensational strike that shouldn't be forgotten in the bigger picture.
What did you make of the game? Let us know your thoughts down below