3 Ups and 5 Downs From Southampton 1-1 Man United
Griffochaz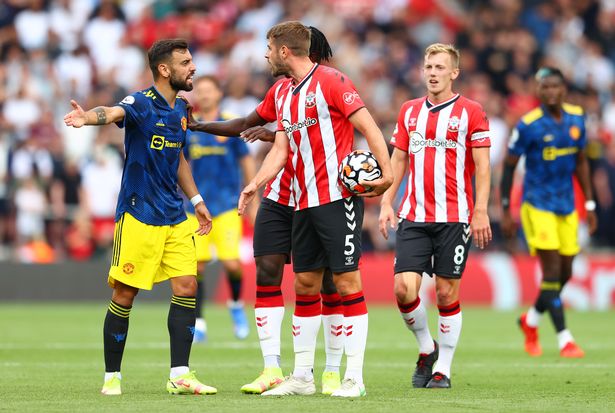 Following on from the high of last week's 5-1 thrashing of Leeds United, The Red Devils and Ole Gunnar Solskjaer were dealt a huge reality check against Southampton.
United started the game relatively strongly and had many chances from set pieces however the game turned on it's head when Che Adams' shot deflected in of Fred to give the Saints the home lead.
United needed to return to their roots of last season and create a second half comeback, something that Edinson Cavani instrumented in this fixture last campaign.
Mason Greenwood scores a scrappy goal past Alex McCarthy after another Paul Pogba assist.
Somewhat surprisingly, Man United didn't push on after that and it was Southampton that looked more determined to win the game but following a great David De Gea save from Adam Armstrong's one on one chance, the honours were shared between the two clubs and the game finished 1-1.
So what were the highlights of the draw and what were the negatives of it.
DOWN – An Unnecessary Team Selection
A week ago, I gave Ole an up for his team selection which despite attracting negativity from our fanbase was totally the correct decision. However, this week is a different story.
The exclusion of Sancho and Varane from the starting XI was disappointing and Martial coming in at number 9 for an in-form Mason Greenwood was questionable. These decisions unfortunately backfired and without going into individual performances, it was a big miss management from Solskjaer today. Expecting a better selection against Wolves.
DOWN – Donny Remains A Forgotten Son
Here is the customary down for Donny Van de Beek being an unused substitute in a Manchester United football match.
We aren't looking for Donny to be in the team every week but after a solid pre-season he is again falling down the pecking order behind names like Jesse Lingard and the writing seems to already be on the wall for the Dutchman.
I'm sure Donny will get more game time when the Champions League and domestic cups kick into action but nonetheless a player of Van de Beek's quality should be featuring more, especially when he is currently one of the fitter players in the squad.
DOWN – Varane Emission Causes Defensive Concern
While the defence wasn't the main reason we drew the game, it was still a suspect performance from all of our backline. Wan Bissaka couldn't string a pass together despite his improvement in that department over recent months, Lindelof and Maguire were their signature slow selves and Shaw looked weak in defence and blunt in attack.
This isn't a major worry as Wan Bissaka always has a few of these games in a season, Shaw is still the best left back in the world and Maguire will thrive when Varane undoubtably comes in for Lindelof but Southampton were allowed to look dangerous because of our defensive frailties.
DOWN – The Birth And Death Of  "Matfred"
The midfield has become a major concern for Man United over the past few years with the defensive anchor being the main worry. "McFred" have had their fair share of critics and are clearly not suitable long term for the club but if you thought that the McDonalds sounding partnership was the worst it gets then you are sorely mistaken.
I can't remember the last time I saw a midfield diasterclass quite as bad as the one Matic and Fred put in against Southampton. I have no other words because I simply don't know how to explain their collective performance. If United lined-up with their back 5 and front 4 and no midfield pivot there would be no difference in that game.
I, like most, am on my knees for a late defensive midfielder signing this summer but I wouldn't get too excited on that one.
DOWN – Another Dry Performance From Martial
Cast your minds back to June 2020 when football returned from its 3-month hiatus due to the pandemic and think about how good Anthony Martial was.
Anthony's career in Manchester has been one big rollercoaster with highs and lows but this season is a make or break for the Frenchman and he hasn't started it well. He didn't get much service today but any of the ball he did get was either instantaneously lost or wasted.
I don't know if Martial wants a move away or he is just unhappy at the moment but his recent displays make him look disinterested. He'll have to drastically turn this form around if he wishes his United career to go beyond next summer.
UP – De Gea Fighting For His Place
David De Gea won't get many plaudits for his save to deny Adam Armstrong, but the depressing fact of the matter is that he won us the point.
Now you would expect a goalkeeper of David De Gea's calibre to make that save but when it's a confident striker shooting to win the club's first home game in a packed stadium in 18 months then the save becomes even more impressive.
Ole faces many questions as manager, a lot centred around himself, and the De Gea and Henderson battle will cause many headaches in the season ahead.
UP – Paul Pogba's 5-Star Start To The Season
When Man United underwhelm, Paul Pogba is never far from the headlines however you can't deny he was one of the only players that gave it something against the Saints.
The Frenchman has now recorded 5 assists in just 180 minutes this season which is a Premier League record. The setup for Greenwood's strike wasn't spectacular but it was a graze of the ball that stopped United from going home empty handed.
Pogba's attitude and commitment has often been questioned but it's the rest of the team that face that same question after Southampton.
UP – United Equal An Invincible Record
Man United have now equally the Arsenal Invincibles unbeaten away record of 27 games with a chance to break it with a trip to Wolves next Sunday.
Realistically that's not a world beating stat considering there were no fans in grounds last season however if you remain unbeaten away from home for 27 games, that shows some intent and that is crucial. Let's now turn these records into silverware.
What did you make of the game? Let us know down below.