3 Ups and 11 Downs From Manchester United 0-2 Manchester City
Griffochaz
The Manchester Derby has thrown up some real shockers down the years but this game was as interesting as it gets but for all the wrong reasons.
Manchester United entered submission mode from minute 1 against Man City and that is a major worry.
An own goal from Eric Bailly and a tap home for Bernardo Silva secured a 2-0 win for Man City that doesn't show the true extent of the levels between the two sides.
Ole Gunnar Solskjaer set up with a 5 at the back and entered defence mode before the first whistle and that shouldn't be happening let alone at Old Trafford in a derby.
So let's breakdown that horror show in what may be Solskjaer's final game in charge.
DOWN – CITY FLUSH OUT THE SPIDER
Aaron Wan Bissaka has a very good record against Manchester City and is usually a star player in red but this was a completely different story.
The English international was caught napping numerous times and his positioning for the opener was alarming to say the least.
Foden was far too comfortable in this game and was allowed time and space on the ball and even Wan Bissaka's trademark slide tackles weren't up to scratch.
He was a big weakness in that team today and Man City enjoyed targeting the right back.
His worst game in a Man United shirt for me.
DOWN – UNPREDICTABLE BAILLY STRIKES AGAIN
Let's face facts here.
As soon as Eric Bailly put in a man of the match display against Atalanta you knew one of three things were going to happen.
He was either going to get sent off, get injured or score an own goal and the latter was the unfortunate case on Saturday.
That's the annoying part of Eric Bailly's game, you know that something drastic will happen when Bailly has put in a good game. His consistency is not there.
While unlucky, the own goal just highlights the rashness still in Bailly's game and the blinded stab at the ball sent it crashing into his own net.
Besides the OG, the Ivorian didn't look at the races and was easily bossed by a far less physical Gabriel Jesus.
Not a good day at the office for Eric.
DOWN – LINDELOST AND LAG-UIRE DIASTERCLASS
I think we are all fed up of saying this game in game out but Victor Lindelof and Harry Maguire are not a sustainable partnership at the best of times but when both aren't 100% fit then we have serious problems.
Lindelof looked lost in this game and couldn't find any defending rhythm while Maguire was lagging behind the game's pace as per usual.
It was easy for the Manchester City attacking line to play in round when you have two defenders with a combined speed of a reversing dumpster truck.
In big games like this, Solskjaer or any other manager needs to resist playing the pair together because it's just a recipe for disaster.
Never ever again.
DOWN – ARE WE SHAW THIS IS SHAW?
Remember when Luke Shaw gave England fans the best moment of the summer by firing home the opener in the Euro 2020 final? Yeah me too.
So where is that Luke Shaw because since then we haven't seen a single glimpse of that animal that we all grew to love last season and at the European Championship tournament.
The second goal where he half heartedly went to see the ball out which allowed Bernardo Silva to come in behind and poke the ball past De Gea is a perfect case to show he is not at the races.
He is so far out of form that he is rivalling his pre-Solskjaer days which is never good.
The boy needs a long rest, which he might get now with a rumoured injury, and Alex Telles is more than capable of filling the void while Shaw is recharging.
I, along with most, would do anything to get last season's Luke Shaw back on the left because that player is different gravy.
DOWN – MCFRED MCFRED MCFRED
No explanation needed.
Man United will never reach the heights they should be reaching with those two in the middle of the park.
Individually, they can do a job, similar to Lindelof and Maguire, but together is a nightmare of epic proportions for the club.
Why Solskjaer continues to stick with this failed experiment time and time again I will never know.
A snail could bypass the pair in midfield. That says all you need to know about McFred.
DOWN – BRUNO'S BALL ALLERGY
Our Portuguese magnifico was far from his trademark nickname against City.
It appears he has picked up an allergy for the ball because everytime the number 18 received it, he would just boot it away to the opposition or try a pass that even Paul Scholes would fail to execute.
I've said this time and time again but Bruno Fernandes is a frustrating player to watch because he will get dispossessed multiple times in a game but make one world class pass that will help win the 3 points.
However, when that doesn't pay off he has to be in the downs column and in a game where his main midfield rival Kevin De Bruyne controlled the centre of the park with his eyes closed, it's not a good look for our Portuguese superstar.
DOWN – CAPTAIN OF A SINKING SHIP
Harry Maguire is out of form at the moment. You don't need to be a footballing expert to notice that but the other side of his game as captain should be motivating the team especially in a derby match.
If you can show me one clip of when Maguire opens his mouth to his teammates then I will be surprised because he is mute for the entire match unless he's shouting at the ref for giving an onside that he played them on for.
Everyone and their dog know Harry Maguire is not Manchester United captain material and with players like Cristiano Ronaldo, Bruno Fernandes and even Maguire's usual centre back partner Raphael Varane all more vocal than the Englishman, the time for a captaincy change is now.
Will it happen though? Absolutely not.
DOWN – OLD TRAFFORD FORTRESS NO MORE
For 90 minutes on Saturday Old Trafford turned into Manchester City's training ground. Just let that sink in for a second.
Old Trafford which once was a fortress that teams feared is now a training pitch for our local rivals.
Luton Town could come to Old Trafford and fancy their chances because the players don't seem to step up in front of the Manchester United massive.
My back garden is more of a fortress than Old Trafford at the minute and the protest on Saturday will have more passion and belief than the players have shown over the last 3 months.
DOWN – DAMAGE LIMITATION FROM MINUTE 1
In hindsight, there is not one part of Ole Gunnar Solskjaer that wanted to win that game of football.
The back 5 was just a defensive tactic to try and limit the damage a far superior Manchester City side would do.
If we played a back 4, then the scoreline would resemble that of a cricket match so Ole's setup was so clear he was playing not to get hammered.
Well, you can get hammered without losing 4 or 5 nil as United proved perfectly on Saturday.
If the league leaders Chelsea can't win at home against City with a back 5 then why on earth did Solskjaer and his coaches think we could. Embarrassing beyond belief.
DOWN – THE AXE IS COMING DOWN ON SOLSKJAER
Now you may look at the heading and say it's an up. I would to. The future of Manchester United would more than likely be better off if Solskjaer isn't at the helm.
That pains me to say because I feel last season Ole was on the cusp but he's just lacked that final push to rival the City's and Liverpool's of this world.
It feels like now we are just prolonging the inevitable which is no good for anyone.
Thank you Ole for everything you have done as a player and as a manager but your time as the middleman is up.
DOWN – THE BOARD HAVE NO CLUE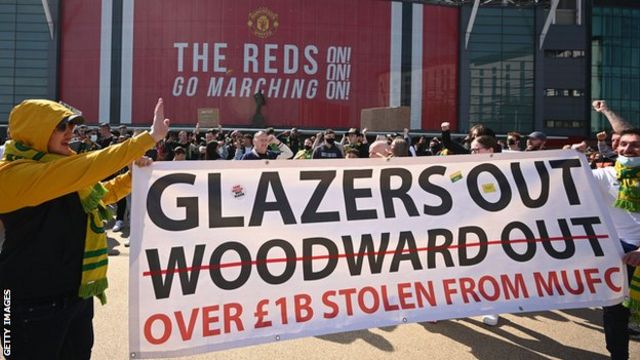 With the above being said, Ole will never walk away and so he shouldn't.
It would be foolish to walk away from your dream job and miss out on a big cash pay-out. I know it's what fans want but a resignation is just not realistic.
It's the board's job to look at the situation and make the decision based off that but we all know that won't happen.
That is why the club is in dark days because what a normal football functioning board would do is assess the situation and make the call to sack Ole but the Man United owners are simply businessmen who only look out for their own pockets and won't act until their investments start getting affected.
As much as you may want Ole Out, let's not lose focus on the bigger picture here which is the totally incompetence of the board running this football club.
UP – DAVE SAVES ANOTHER HUMILIATION
When David De Gea makes a howler for the second goal and still bags himself an up, you know we are in deep trouble.
If it wasn't for the Spaniard then the scoreline might have broken unwanted records so despite his poor keeping for both goals, the Silva one especially, he still finds himself in the ups column, as he has done all season.
UP – DONNY DREAMING
I, like most, had to pinch themselves when they saw Donny Van de Beek lining up to come on against Manchester City. That's now two games he's had minutes in. Must be closing in on a record for sure.
Jokes asides, Van de Beek gave more in 45 minutes than most gave in 90 which is damning on the players as well as the coaching staff.
It's clear to hear and see that Donny is a fan favourite and the serious lack of gametime the Dutchman has had since him move from Ajax is borderline criminal.
UP – ATMOSPHERE NEVER DISAPPOINTS
Yes, this may be scraping the barrel for ups but we are at that stage now.
The players may disappoint, the coaches may disappoint, the manager may disappoint but one thing is for sure, the Old Trafford crowd never will.
The support from our home fans is unmatched and the roar despite a passionless performance makes you proud to be a United fan.
We will always have the fans, until The Glazers decide to join another European Super League of course.
What did you make of that lacklustre display? Let us know your feelings down below.