1 Up and 8 Downs From Liverpool 4-0 Manchester United
Griffochaz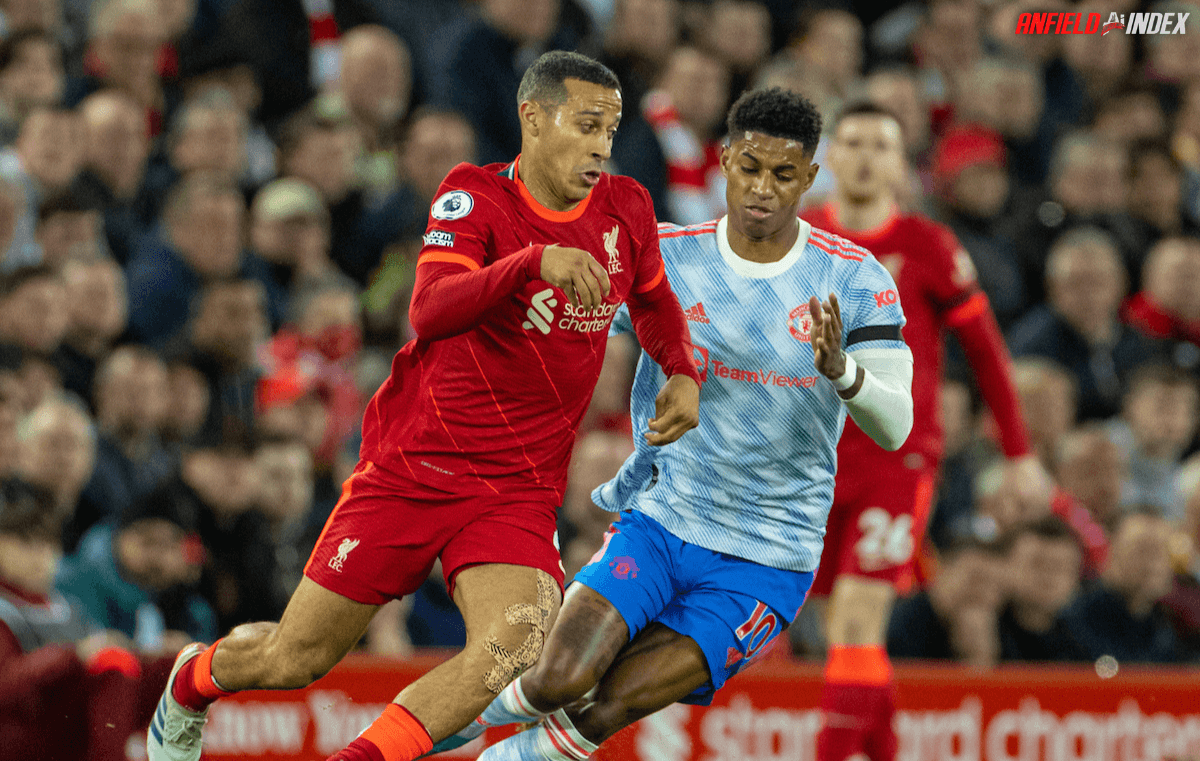 Another game, another realisation that Manchester United are having their worst season for some time.
Man United travelled to Anfield knowing that not only could they continue to fight for Top 4 but also play a big part in stopping Liverpool winning an unprecedented quadruple.
Unfortunately, that wasn't enough motivation for the team as yet again they turned up physical but not mentally.
Liverpool managed to return to the top of the table with a 4-0 win that saw Mohamed Salah back amongst the goals.
We know these players checked out a while back but forgive the fanbase for expecting a little fight against the club's greatest rivals.
Let's just get into a very down heavy list of ups and downs.
DOWN – THAT LINEUP
Going into this game, I had a hope of 1% and that immediately was squashed when Ralf Rangnick named his starting XI.
That may be one of the worst United teams I have seen in some time and the choice to play 5 at the back is as comical as it is unexpected.
While Ralf had his hands tied somewhat with injuries, he still bottled it when choosing the team to go up against a dominant Liverpool side.
A lot of those players don't deserve the shirt they wear but a lot of them will still be here next season.
DOWN – THE LEAST WING WING BACKS
When Diogo Dalot and Aaron Wan Bissaka were named as wing-backs in a back 5, you knew trouble was around the corner.
Neither of them can attack to save their lives and both are quite suspect defensively too.
For me, this was Dalot's worst game in a Man United shirt and allowed Liverpool to walk all over him.
As for Wan Bissaka, he clearly isn't a first teamer at any Top 6 club in the league and is very limited in his game, limits exposed by Salah and co. on Tuesday.
A whole host of new fullbacks are needed for the club to progress and challenge the likes of Chelsea, Man City and Liverpool.
DOWN – THREE CENTRE BACKS NOT ENOUGH
There is no point giving each one of the centre backs a down so I am just giving them a collective one instead.
Harry Maguire, Victor Lindelof and Phil Jones all offer the same game which means it is easy for Liverpool to bypass.
The combined pace of the three was no concern to Salah, Mane and Diaz which is embarassing when you have the speed of Eric Bailly available and ready to go.
None of those centre backs are Man United quality but yet we play all three of them in what should be the club's biggest match of the Premier League calendar.
DOWN – MATIC SWANSONG
Nemanja Matic is on his way out of Man United so he is no problem next season but he was a big issue in this game.
We all know Thiago is a very talented footballer and ran the show on Tuesday but Nemanja let him do just that.
As a defensive midfielder, it is Matic's job to contain Liverpool and limit the number of attacks they have but it was like he wasn't even there.
Awful performance from the Serbian.
DOWN – A CAMEO FROM POGBA
There has been many headaches during Paul Pogba's time at Man United but his rather frustrating injury record has to be number 1.
There is not a season that goes by where Paul is fit for the majority and he always has one or two big injuries that will keep him out for large periods.
Against Liverpool this season, Paul has only played 24 minutes and those 24 included a red card.
The big game player we thought we were getting in 2016, hasn't showed up in hardly any big occasions and that is why a large part of the fanbase are happy he is departing the club.
DOWN – HIT AND HOPE FROM BRUNO
Bruno Fernandes clearly has a talent but where that talent is hiding is beyond me.
His trend to smashed the ball anywhere and hope that it finds it's way to a Man United player is detrimental to the team.
Bruno needs to calm down because his more than poor form is one of the biggest contributing factors to the club's woeful season.
DOWN – RASHFORD MAY BE DONE
There hasn't been a further fall from grace than the one we have seen with Marcus Rashford.
He just can't even seem to get the basics right and that is a sign that a player is done at a club.
No one represents Man United like Marcus but performance comes before anything and his displays have been bottom of the barrel.
DOWN – PRE AND POST MATCH INTERVIEWS
The part of Tuesday's defeat that angers me more than most is that the players are insulting the intelligence of the fanbase.
You have the captain of the club conducting interviews before the club's biggest match of the season saying there is a reason that the two managers have picked him this season and that he isn't playing that bad.
Then you got Bruno Fernandes coming out after the match saying the team always give 100%.
Both of these statements are clearly very false but they feel we are too stupid to realise that.
They are trying to rewrite what we are seeing with our own eyes.
This is a massive slap in the face of the fans that have supported this club through it's worst period.
UP – HANNIBAL DID A TACKLE
That is where we are at.
Hannibal did a few tackles against our biggest rivals who are on the cusp on a quadruple that would eclipse any Man United achievement in history.
Let that sink in.
We are relying on a 19 year old to come on and show the rest of the players what they should of been doing from the first minute.
What's next for these players? Let us know down below.